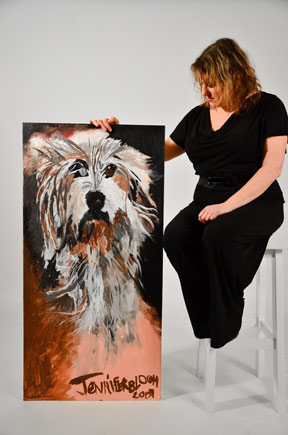 Jennifer Bloom comes from New York and was trained at the Rhode Island School of Design and happily also received a master's of fine art at U.C.L.A. She has been painting since she was 7 years old. She infuses a lot of New York attitude, panache, and hip style into her paintings. People have told her that her portraits remind them of painters from the 80's and that they are also very Hockney-esque in their approach.
---
"My paintings magnify the worlds that my subject's live in. Whether it is a dog, a horse, or a bird I think it is fun to find the humor in themselves and their surroundings.
I love to paint in the impasto style with acrylics. I call my style abstract-expressionism with healthy dashes of realism thrown in.
My paintings transport the viewer to a world of bright contrasting vivid color, humor, and expressive emotion. Paintings should make you feel and for me I stick with the more positive feelings of fun, quirky, humorous and elegant style.
My strength as an artist prides itself on the handmade, the object d'art...
For me the ultimate end result of my paintings is that they offer luxury and happiness to whomever they live with. A big barometer of art is that you never tire of it no matter how many glances you have stolen.."

Jennifer Bloom, Painter
2012/Seattle